Feeding Systems for Handheld Screwdriving Tools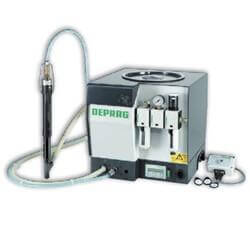 There are many options for feeding systems for handheld screwdriving applications in our standard product line, from manual screw pickup to feeders that are designed to supply one or two workstations with screws by automatically feeding them to handheld screwdrivers.
Automated feeding systems have many benefits:
streamlining your assembly and optimising the assembly process
increasing your production output
ergonomic and comfortable handling
simple start-up procedure.
Deprag feeders with a vibratory drive are particularly suitable for screws from < M1 to M8, and the high output of Deprag vibratory bowl feeders distinguishes them from other feeding systems. Sword feeders or segment feeders are used when components are particularly sensitive and a more gentle feeding environment is required. They are also extremely quiet.
For automatic transporting of fasteners, vibratory, sword (segment) or pick-and-place equipment is available.Our extensive product assortment also includes press-insertion systems for pins or rivets.
Feeding systems consist of the feed bowl unit, screw separator, an air connection and air maintenance unit, a mains power switch and electronic controller, 2 m standard length hose set, the mouthpiece guide and the mouthpiece as well as an appropriate screwdriver receiver (adapter) and a sound enclosure cover.
More tools are featured in tool catalog.