Modern screwdriving technology provides many solutions for reducing strain, speeding up work stages and improving quality. Compared to traditional tools, pneumatic and electric screwdrivers make work significantly more efficient. Screwdriving automation even enables fully automated production line solutions.
Pneumatic Screwdrivers for Improved Production
In industrial mass production, choosing the right screwdriver is crucial, e.g. for minimising product flaws and ensuring quality production. The easier the screwdriver is to handle, the faster you work.
Pneumatic wrenches offer a large scale of options to meet demanding work requirements. As Deprag's importer, our product line includes the right screwdrivers for performing micro tasks in the field of medical technology or electronics as well as all other industrial applications. The pneumatic or electric screwdrivers are suitable for both manual and automatic use.
Industrial Screwdriving Solutions for Improved Work Ergonomics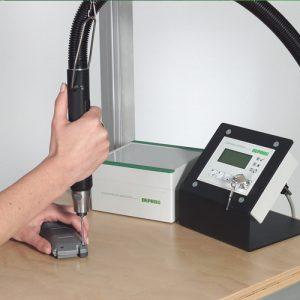 Bespoke screwdriving solutions enable tools to be handled in an ergonomic way, significantly reducing the strain on the operator. Screwdriving solutions eliminate the need for strenuous circular motion and reduce the need to hold the screwdriver, which causes continuous static stress on the upper body.
Without fail, the improved ergonomics resulting from the screwdriving solution has a positive impact on the accuracy and efficiency of work.
Screwdrivers for Automated Use
Making screwdriving automatic is an effective way to improve productivity and product availability, whatever the industry, whether electronics or medical technology. Screwdriving is usually a simple work stage that can be easily automated.
Screwdriving automation is always individually designed and implemented for each customer, and the required product solutions are chosen according to the customer's needs as well as the product and component requirements. The equipment can perform one work stage or it can combine several functions, such as feeding screws, screwdriving, welding and other required stages.
For more information about wrenches for industrial and professional use, please contact us at +358 10 778 1400 or info@pneumacon.fi.