It is not necessary for all companies to invest in a torque wrench. If there is only occasional need for a torque wrench or if several torque wrenches are needed at once, renting can be a significantly better option. Pneumacon rents out high-quality RAD Torque Systems torque wrenches for various industries.
Torque wrenches may, for example, be needed for the transfer or maintenance of industrial production lines, unusual assembly work, mobile maintenance and other purposes.
Renting a torque wrench is easy and economical
When the need for a torque wrench varies, renting one helps avoid any additional costs related to the purchase, maintenance and storage of the tool. Pneumacon's rental equipment is serviced regularly, ensuring that the tool rented out to your company is always functional and calibrated. Our rental equipment always complies with the latest quality and safety standards.
When you rent the torque wrench you need, it is easier to choose just the right tool for each task. Even if your company already has torque wrenches, the temporary need for a more powerful or programmable wrench, for instance, is easy to meet with a rental tool. Our professional staff will help you choose the wrench that meets your needs, and it will be handed over to you in a handy, weatherproof case.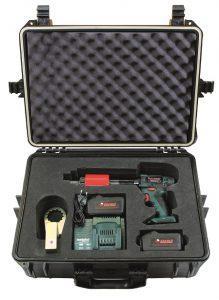 We hand over rental torque wrench to you in a handy, weatherproof case.
A RAD torque wrench is a powerful and safe choice to rent
From our wide selection, it is easy to choose just the right torque wrench for the task. RAD's torque wrenches are not only ergonomic and powerful but also light and very easy to use. The torque wrenches are quiet and vibration level is low.
Setting the required torque is simple. On the battery-powered rental wrenches, the torque can be adjusted using the plus and minus buttons and the torque is displayed clearly on an easy-to-read screen.
RAD's wrenches are not only powerful but also reliable. This makes them ideal for even the most demanding tasks. The precision and reliability of the wrenches guarantee a hassle-free user experience in every situation.
Pneumacon rents out powerful and high-quality RAD torque wrenches for professional use. Read more about renting a torque wrench.
To easily rent an affordable battery-powered torque wrench, just call +372 5650 5234 or send an email to info@pneumacon.fi.