Hose & Cable Safety Reels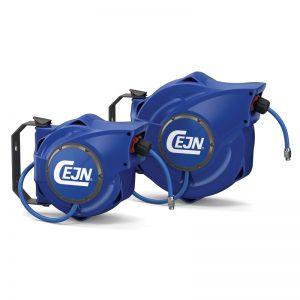 CEJN safety reels are a premium collection of reels for compressed air, water, and electrical cable reels. CEJN safety reels provide users with both maximum tool output and safety in the workplace with their durable exterior housing, slow retraction feature and unique soft stop-ball. The reels are easy to manoeuvre and offer 180 degrees of movement and parking position. We keep it simple: they are easy to install, whether mounted on ceiling or wall, and can be disconnected from the wall bracket if necessary. The patented closed safety reels are developed and produced in Sweden. Each component in our safety reel range, and their function, is carefully considered to provide you with the best product on the market.
Downloadable materials
Our full range of tools are featured in our tool catalog. In the price list you will find the prices of all the products we sell.