VP-P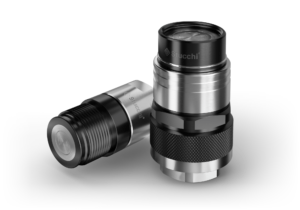 The "VP-P" screw flat face coupling series is the technological solution to demanding hydraulic applications. The screw connection system eliminates premature wear and the "brinelling" caused by a mechanical locking ball system. This makes the "VP-P" series suitable for high operating and impulse pressures. The triple valve system allows connection of the coupling safely even in presence of high internal residual pressure and at the same time avoiding fluid loss. The safety sleeve integrated in the connection system prevents accidental disconnection making the "VP-P" series ideal for the most extreme operating conditions where strong vibration and torsion issues are present.
BENEFITS
*Connection under residual pressure is allowed in both sides, the internal valve system allows an easy connection and the disconnection is included.
Flat face is easy to clean, reducing the inclusion of contamination to the hydraulic circuit.
Minimal fluid loss during disconnection, reducing fluid loss to the environment.
Minimal air inclusion during connection / disconnection.
Patented internal valve design creates minimal pressure drop, maintaining circuit efficiency in the system.
Internal pressure release valve system allows an easy connection with high internal residual pressure.
The safety sleeve integrated in the connection system prevents the accidental disconnection.
The modular design allows flexibility with a wide range of configurations.
High resistance at impulse pressures.
Safe and simple to use.
BOP – Specific dimensions of Stucchi VEP-P, VP-P and VOF series are fire tested and Lloyd certified in accordance with API 16D and the EUB Directive #36. For complete technical information please contact Stucchi technical support.
More tools are featured in tool catalog.
Technical data:
Technical data
| | | | |
| --- | --- | --- | --- |
| | Max working pressure connected | Max working pressure disconnected, nipple | Max working pressue disconnected, coupling |
| Size 1/4″ | 600 | 600 | 420 |
| Size 3/8″ | 550 | 550 | 330 |
| Size 1/2″ | 550 | 550 | 330 |
| Size 5/8″ | 550 | 550 | 330 |
| Size 3/4″ | 500 | 500 | 330 |
| Size 1″ | 470 | 470 | 300 |
| Size 1 1/2″ | 400 | 400 | 270 |
| | | | |
| --- | --- | --- | --- |
| Product code | | Coupling size | Thread size BSP |
| VP7 ¼" (F) | Coupling | 1/4" | 1/4" |
| VP7 ¼" (M) | Nipple | 1/4" | 1/4" |
| VP9P 3/8" (F) | Coupling | 3/8" | 3/8" |
| VP9P 3/8" (M) | Nipple | 3/8" | 3/8" |
| VP9P ½" (F) | Coupling | | 1/2" |
| VP9P ½" (M) | Nipple | 3/8" | 1/2" |
| VP13P ½" (F) | Coupling | 1/2" | 1/2" |
| VP13P ½" (M) | Nipple | 1/2" | 1/2" |
| VP15P ¾" (F) | Coupling | 5/8" | 3/4" |
| VP15P ¾" (M) | Nipple | 5/8" | 3/4" |
| VP17P 1" (F) | Coupling | 3/4" | 1" |
| VP17P 1" (M) | Nipple | 3/4" | 1" |
| VP21P 1¼" (F) | Coupling | 1" | 1¼" |
| VP21P 1¼" (M) | Nipple | 1" | 1¼" |
| VP30P 1½" (F) | Coupling | 1½" | 1½" |
| VP30P 1½" (M) | Nipple | 1½" | 1½" |
| | |
| --- | --- |
| Cap | Product code |
| For Coupling VP7 | 815300050 |
| For Nipple VP7 | 815300051 |
| For Coupling VP9 | 815300052 |
| For Nipple VP9 | 815300053 |
| For Coupling VP13 | 815300054 |
| For Nipple VP13 | 815300055 |
| For Coupling VP15 | 815300056 |
| For Nipple VP15 | 815300057 |
| For Coupling VP17 | 815300058 |
| For Nipple VP17 | 815300059 |
| For Coupling VP21 | 815300060 |
| For Nipple VP21 | 815300061 |
| For Coupling VP30 | 815300062 |
| For Nipple VP30 | 815300063 |