Series 411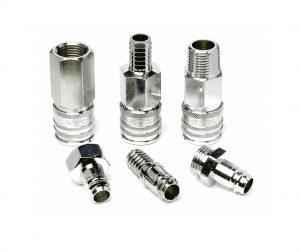 One-hand operated
Extremely high-flow capacity
Large range of connections
Series 411 features valved couplings and valveless nipples. Requiring only one hand for operation, the Series is suitable for a variety of fluid applications, such as water inlet and return for injection molding lines.
The Series is also available in a high-pressure straight-through design (Series 412), two-way shut-off (Series 414), and stainless steel construction (Series 416). Please refer to the CEJN Pneumatic range for specialized versions of the Series with nickel-plated steel/brass construction and as Vented Safety (Series 410).
More tools are featured in tool catalog.
Technical data:
Couplings
Part No.
Connection
Seal
Length
Diameter
Hexagon
Hose connection
10 411 1003
8.0 mm (5/16″)
NBR
73.8
27.7
24
10 411 1004
10.0 mm (3/8″)
NBR
72.8
27.7
24
10 411 1005
13.0 mm (1/2″)
NBR
71.3
27.7
24
10 411 1006
16.0 mm (5/8″)
NBR
72.3
27.7
24
10 411 1007
19.0 mm (3/4″)
NBR
70.3
27.7
24
Male thread
10 411 1154
R 3/8″
NBR
63.8
27.7
24
10 411 1155
R 1/2″
NBR
66.3
27.7
24
10 411 1157
R 3/4″
NBR
56.8
31.2
27
Female thread
10 411 1204
G 3/8″
NBR
58.3
27.7
24
10 411 1205
G 1/2″
NBR
63.3
28.9
25
10 411 1207
G 3/4″
NBR
60.3
37
32
Nipples without valve
Part No.
Connection
Seal
Length
Diameter
Hexagon
Hose connection
10 411 5004
10.0 mm (3/8″)
–
46.5
17
–
10 411 5005
13.0 mm (1/2″)
–
46
17
–
10 411 5006
16.0 mm (5/8″)
–
48.5
21
–
10 411 5007
19.0 mm (3/4″)
–
49
25
–
Male thread
10 411 5255
G 1/2″
–
37
25.4
22
10 411 5257
G 3/4″
–
–
–
27
Female thread
10 411 5204
G 3/8″
NBR
34.5
24.3
21
10 411 5205
G 1/2″
NBR
34.5
27.7
24
10 411 5207
G 3/4″
NBR
35
32
30
Gardena-CEJN converter
10 411 5950
Gardena profile
NBR
48
19.8
–
Nipples with valve
Part No.
Connection
Seal
Length
Diameter
Hexagon
Hose connection
10 411 7005
13.0 mm (1/2″)
EPDM
64
23
–
Male thread
10 411 7255
G 1/2″
EPDM
37
25.4
22