SENSOMAT Stationary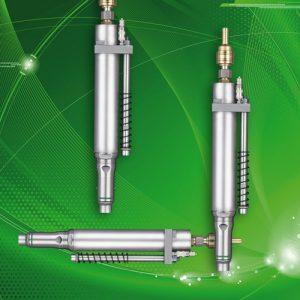 The screwdriver with a controlled clutch-function
thread forming with maximum motor power
seating torque less than driving torque
thread forming instead of thread damaging
simple integration
smallest mounting dimensions
The air-operated stationary screwdrivers SENSOMAT with a mechanical clutch-function is especially well suited for applications, such as
sheet-metal assemblies
wood assemblies
self-drilling pass-through screws
The SENSOMAT was designed for screw assemblies where the driving-torque (thread-forming force) is close to – or even higher –than the seating torque. It is possible to equip this screwdriver with a mechanical clutch-lock-out, which allows the safe assembly of thread forming- or thread cutting screws. A damaging over-tightening of the screw is impossible.
The SENSOMAT drives the screw with full motor power. Shortly before the screw bottoms out, the shut-off clutch is activated and the driver shuts-off exactly at the preset torque. The screw is completely seated without any damage to the screw-thread.
Using our special designed shut-off clutch, guarantees a torque accuracy of ≤3 % standard deviation, independent from the screw joint. In many cases and under suitable conditions, it is possible to achieve an even higher torque accuracy and a Cmk value of ≥1.67 even at a tolerance of 15 % can be reached.This type of accuracy means that the error rate is below 0.6 errors per one million assemblies. To increase the processing reliability even further, it is possible to additionally control the screw-depth and the shut-off of the screwdriver.
SENSOMAT Screwdriver Spindles
Design execution: Straight
Torque range: 0,3 Nm – 5 Nm at a maximum driving torque of 7 Nm
More tools are featured in tool catalog.