PneumaticPress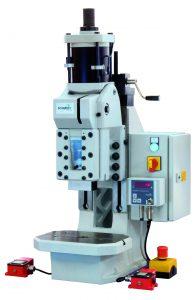 From 1.6 kN to 60 kN
Throat depth from 86 mm to 200 mm
Working height from 90 mm to 600 mm
The SCHMIDT® Pneumatic Press range consists of a modular system suitable for transforming, joining and assembling operations optimally within the pressing capacities of 1.6 – 60 kN.
With the addition of the SCHMIDT® PressContro 600and the optional process monitoring, these presses become EC type-approved, CE-conformed workstations. Therefore these press systems can be used in either single cycle mode or automatic mode.
The application determines the selection of the press system. Consideration is given to the flexible design of the assembly location taking into account the ergonomic and safety aspects. These characteristics are achieved by means of a finely adjusted, modular type product range.
The efficiency and increased process reliability of these press systems have been proven many thousands of times, in single applications, semi-automated assembly systems and have been integrated into automated production lines.
Features:
Optimally adapted to individual requirements due to its modular design
Process optimization by means of adjustable parameters (stroke, force, speed)
Easy adaptation to different tool and part heights because of simplistic stroke and height adjustment
Easy and exact positioning of tools due to precision bore and T-slot with set screw in the ground press table
Additional safety measures when using heavy tools due to the optional device for retention of ram in home position
Optional end position request via cylinder switch as signal transmitter for peripheral processes
Low noise level (< 75 dBA)
Double-acting, wear-resistant cylinders with low air consumption for the return stroke. The return stroke is carried out via one cylinder chamber by default.
High flexibility due to short changeover time
Long service life and high precision due to wear-resistant Teflon coated bushings at top & bottom of cylinder
Precision ground ram
Precision double ram Teflon guides
More tools are featured in tool catalog.