Multi-X Coupling and Nipple Kits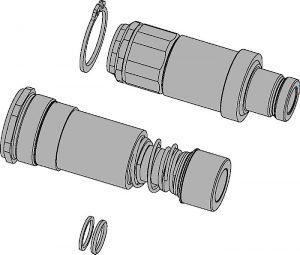 The couplings and nipples in the Multi-X plates can be replaced. The nipple kit contains nipple and retaining ring. The coupling kit contains a complete set of parts for replacement of one coupling. The seal kits contains one profile ring or an O-ring/backup ring to replace the front seal on the nipple.
More tools are featured in tool catalog.
Technical data:
| | | | |
| --- | --- | --- | --- |
| Multi-X Coupling and Nipple kits | Suitable for | Part No. | Connection |
| Nipple kit | Duo 25 | 10 064 6903 | G 1″ (BSP) |
| Coupling kit | Duo 25 | 10 065 1903 | G 1″ (BSP) |
| | | | |
| Multi-X Coupling and Nipple kits | Suitable for | Part No. | Connection |
| Nipple kit | Duo 10, Quattro 10, Quattro 10/12.5, Hexa 10 | 10 364 6908 | G 3/8″ (BSP) |
| | Duo 10, Quattro 10, Quattro 10/12.5, Hexa 10 | 10 364 6909 | WEO 3/8″ |
| | Duo 12.5, Quattro 12.5, Quattro 10/12.5, Hexa 12.5/19 | 10 564 6908 | G 1/2″ (BSP) |
| | Duo 12.5, Quattro 12.5, Quattro 10/12.5, Hexa 12.5/19 | 10 564 6909 | WEO 1/2″ |
| | Quattro 12.5/19, Duo 19 | 10 764 6908 | G 3/4″ (BSP) |
| | Quattro 12.5/19, Duo 19 | 10 764 6909 | WEO 3/4″ |
| Coupling kit | Duo 10, Quattro 10, Quattro 10/12.5, Hexa 10 | 10 365 1908 | G 3/8″ (BSP) |
| | Duo 10, Quattro 10, Quattro 10/12.5, Hexa 10 | 10 365 1909 | WEO 3/8″ |
| | Duo 12.5, Quattro 12.5, Quattro 10/12.5, Hexa 12.5/19 | 10 565 1908 | G 1/2″ (BSP) |
| | Duo 12.5, Quattro 12.5, Quattro 10/12.5, Hexa 12.5/19 | 10 565 1909 | WEO 1/2″ |
| | Quattro 12.5/19, Duo 19 | 10 765 1907 | G 3/4″ (BSP) |
| | | | |
| Seal kits for nipples | Suitable for | Part No. | Connection |
| Multi-X Seal kits | – | 10 365 4900 | NBR |
| | – | 10 565 4900 | NBR |
| | – | 10 765 4993 | NBR (T-profile) |
| | – | 10 065 4900 | NBR |