MP Blocks, Stainless Steel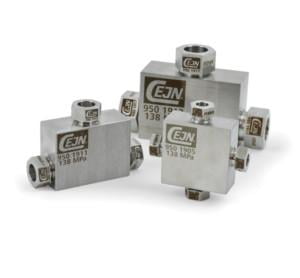 Acid resistant stainless steel 316L / EN1.4404 cold drawn
Industry standard tubing sizes: 1/4″, 3/8″, 9/16″, 3/4″, 1″
138MPa working pressure
Tested for cyclic pressure resistance
Full material traceability
Clearly marked individual components
Industry standard blocks in cross, tee and elbow configurations. Compact designs, made from AISI 316L / EN1.4404 stainless steel for maximum life and safety weep holes on all the connection ports. All blocks provided with collars and gland nuts.
Applications: Laboratories, hoses with MP connections, test rigs and calibration benches.
More tools are featured in tool catalog.
Technical data:
2-way Elbow block
Part No.
Description
Max working pressure
Tube Size (Internal)
Rec. torque (Nm)
19 950 1900
For tube size 1/4″, female thread. Seal with 60° sealing cone. Supplied with collars and gland nuts.
20015 PSI (138.0 MPa)
2.8mm
27
19 950 1901
For tube size 3/8″, female thread. Seal with 60° sealing cone. Supplied with collars and gland nuts.
20015 PSI (138.0 MPa)
5.2mm
41
19 950 1902
For tube size 9/16″, female thread. Seal with 60° sealing cone. Supplied with collars and gland nuts.
20015 PSI (138.0 MPa)
6.2mm
75
19 950 1903
For tube size 3/4″, female thread. Seal with 60° sealing cone. Supplied with collars and gland nuts.
20015 PSI (138.0 MPa)
12.7mm
123
19 950 1904
For tube size 1″, female thread. Seal with 60° sealing cone. Supplied with collars and gland nuts.
20015 PSI (138.0 MPa)
17.5mm
204
4-way Cross block
Part No.
Description
Max working pressure
Tube Size (Internal)
Rec. torque (Nm)
19 950 1905
For tube size 1/4″, female thread. Seal with 60° sealing cone. Supplied with collars and gland nuts.
20015 PSI (138.0 MPa)
2.8mm
27
19 950 1906
For tube size 3/8″, female thread. Seal with 60° sealing cone. Supplied with collars and gland nuts.
20015 PSI (138.0 MPa)
5.2mm
41
19 950 1907
For tube size 9/16″, female thread. Seal with 60° sealing cone. Supplied with collars and gland nuts.
20015 PSI (138.0 MPa)
6.2mm
75
19 950 1908
For tube size 3/4″, female thread. Seal with 60° sealing cone. Supplied with collars and gland nuts.
20015 PSI (138.0 MPa)
12.7mm
123
19 950 1909
For tube size 1″, female thread. Seal with 60° sealing cone. Supplied with collars and gland nuts.
20015 PSI (138.0 MPa)
17.5mm
204
3-way Tee block
Part No.
Description
Max working pressure
Tube Size (Internal)
Rec. torque (Nm)
19 950 1910
For tube size 1/4″, female thread. Seal with 60° sealing cone. Supplied with collars and gland nuts.
20015 PSI (138.0 MPa)
2.8mm
27
19 950 1911
For tube size 3/8″, female thread. Seal with 60° sealing cone. Supplied with collars and gland nuts.
20015 PSI (138.0 MPa)
5.2mm
41
19 950 1912
For tube size 9/16″, female thread. Seal with 60° sealing cone. Supplied with collars and gland nuts.
20015 PSI (138.0 MPa)
6.2mm
75
19 950 1913
For tube size 3/4″, female thread. Seal with 60° sealing cone. Supplied with collars and gland nuts.
20015 PSI (138.0 MPa)
12.7mm
123
19 950 1914
For tube size 1″, female thread. Seal with 60° sealing cone. Supplied with collars and gland nuts.
20015 PSI (138.0 MPa)
17.5mm
204