MP Adapters, MP to type M, Stainless Steel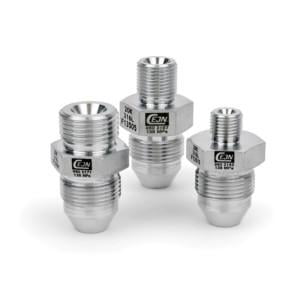 Suitable for conversion from MP connection type M. They are easy to install, providing a quick and easy connection with the fitting's swivel nut. Hand tighten the connection and then create the sealed with the specified torque. Other adapters are available to convert to other connections.
Applications: Laboratories, hoses with MP connections, test rigs and calibration benches.
More tools are featured in tool catalog.
Technical data:
MP male to type M male
Part No.
Connection 1
Connection 2
Max working pressure
Rec. torque (Nm)
19 950 2159
1/4″ MP
9/16″-18 type M
138.0 MPa
conn.1: 27 conn.2: 52
19 950 2160
3/8″ MP
9/16″-18 type M
138.0 MPa
conn.1: 41 conn.2: 52
19 950 2161
9/16″ MP
9/16″-18 type M
138.0 MPa
conn.1: 75 conn.2: 52
19 950 2162
3/4″ MP
9/16″-18 type M
138.0 MPa
conn.1: 123 conn.2: 52
19 950 2163
1″ MP
9/16″-18 type M
138.0 MPa
conn.1: 203 conn.2: 52
19 950 2164
1/4″ MP
3/4″ – 16 type M
138.0 MPa
conn.1: 27 conn.2: 81
19 950 2165
3/8″ MP
3/4″ – 16 type M
138.0 MPa
conn.1: 41 conn.2: 81
19 950 2166
9/16″ MP
3/4″ – 16 type M
138.0 MPa
conn.1: 75 conn.2: 81
19 950 2167
3/4″ MP
3/4″ – 16 type M
138.0 MPa
conn.1: 123 conn.2: 81
19 950 2168
1″ MP
3/4″ – 16 type M
138.0 MPa
conn.1: 203 conn.2: 81
19 950 2169
3/8″ MP
1″ – 12 type M
138.0 MPa
conn.1: 41 conn.2: 135
19 950 2170
9/16″ MP
1″ – 12 type M
138.0 MPa
conn.1: 75 conn.2: 135
19 950 2171
3/4″ MP
1″ – 12 type M
138.0 MPa
conn.1: 123 conn.2: 135
19 950 2172
1″ MP
1″ – 12 type M
138.0 MPa
conn.1: 203 conn.2: 135
19 950 2173
9/16″ MP
1 5/16″ – 12 type M
138.0 MPa
conn.1: 75 conn.2: 203
19 950 2174
3/4″ MP
1 5/16″ – 12 type M
138.0 MPa
conn.1: 123 conn.2: 203
19 950 2175
1″ MP
5/16″ – 12 type M
138.0 MPa
conn.1: 203 conn.2: 203