LP Adapters, NPT, Stainless Steel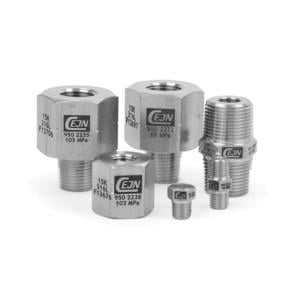 Industry standard adapters for NPT conversions. Compact designs, made from NACE certifieid, AISI 316L / EN1.4404 stainless steel for maximum life. Full specification assembly drawings and recommended torques are available to download.
Applications: Power lifting equipment with hose connections working in corrosive environments, test rigs and calibration benches.
More tools are featured in tool catalog.
Technical data:
NPT male adapters 10k
Part No.
Connection 1
Connection 2
Max working pressure
Rec. torque (Nm)
19 950 2078 
1/8″ NPT
1/8″ NPT
69.0 MPa
23
19 950 2210 
1/8″ NPT
1/4″ NPT
69.0 MPa
con.1: 23 con.2: 29
19 950 2079
1/4″ NPT
1/4″ NPT
69.0 MPa
con.1: 29 con.2: 29
19 950 2080 
3/8″ NPT
3/8″ NPT
69.0 MPa
34
19 950 2081 
3/8″ NPT
1/4″ NPT
69.0 MPa
con.1: 34 con.2: 29
19 950 2082 
1/2″ NPT
1/2″ NPT
69.0 MPa
61
19 950 2083 
1/2″ NPT
1/4″ NPT
69.0 MPa
con.1: 61 con.2: 29
19 950 2084 
1/2″ NPT
3/8″ NPT
69.0 MPa
con.1: 61 con.2: 34
19 950 2085 
3/4″ NPT
3/4″ NPT
69.0 MPa
102
19 950 2086 
3/4″ NPT
1/2″ NPT
69.0 MPa
con.1: 102 con.2: 61
19 950 2087 
1″ NPT
1″ NPT
69.0 MPa
163
19 950 2088 
1″ NPT
1/2″ NPT
69.0 MPa
con.1: 163 con.2: 61
19 950 2089 
1″ NPT
3/4″ NPT
69.0 MPa
con.1: 163 con.2: 102
NPT male adapters 15k
Part No.
Connection 1
Connection 2
Max working pressure
Rec. torque (Nm)
19 950 2211 
1/8″ NPT
1/8″ NPT
103.0 MPa
23
19 950 2212 
1/8″ NPT
1/4″ NPT
103.0 MPa
con.1: 23 con.2: 29
19 950 2213 
1/4″ NPT
1/4″ NPT
103.0 MPa
29
19 950 2214 
3/8″ NPT
3/8″ NPT
103.0 MPa
34
19 950 2215 
3/8″ NPT
1/4″ NPT
103.0 MPa
con.1: 34 con.2: 29
19 950 2216 
1/2″ NPT
1/2″ NPT
103.0 MPa
61
19 950 2217 
1/2″ NPT
1/4″ NPT
103.0 MPa
con.1: 61 con.2: 29
19 950 2218 
1/2″ NPT
3/8″ NPT
103.0 MPa
con.1: 61 con.2: 34
19 950 2220 
3/4″ NPT
1/2″ NPT
103.0 MPa
con.1: 102 con.2: 61
19 950 2221 
1″ NPT
1″ NPT
103.0 MPa
163
19 950 2222 
1″ NPT
1/2″ NPT
103.0 MPa
con.1: 163 con.2: 61
19 950 2223 
1″ NPT
3/4″ NPT
103.0 MPa
con.1: 163 con.2: 102
19 950 2219 
3/4″ NPT
3/4″ NPT
103.0 MPa
102
NPT female adapter 15K
Part No.
Connection 1
Connection 2
Max working pressure
Rec. torque (Nm
19 950 2238 
1/4″ NPT
1/4″ NPT
103.0 MPa
29
19 950 2239 
3/8″ NPT
3/8″ NPT
103.0 MPa
34
19 950 2240 
1/2″ NPT
1/2″ NPT
103.0 MPa
61
19 950 2241 
3/4″ NPT
3/4″ NPT
103.0 MPa
102
Hex Plugs 15K
Part No.
Connection 1
Connection 2
Max working pressure
Rec. torque (Nm)
19 950 2224 
1/8″ NPT
–
103.0 MPa
23
19 950 2225 
1/4″ NPT
–
103.0 MPa
29
19 950 2226 
3/8″ NPT
–
103.0 MPa
34
19 950 2227 
1/2″ NPT
–
103.0 MPa
61
19 950 2228 
3/4″ NPT
–
103.0 MPa
102
19 950 2229 
1″ NPT
–
103.0 MPa
163
NPT female 90 elbows 15K
Part No.
Connection 1
Connection 2
Max working pressure
Rec. torque (Nm)
19 950 2230 
1/4″ NPT
1/4″ NPT
103.0 MPa
29
19 950 2231 
3/8″ NPT
3/8″ NPT
103.0 MPa
34
19 950 2232 
1/2″ NPT
1/2″ NPT
103.0 MPa
61
NPT female / male adapters 10K
Part No.
Connection 1
Connection 2
Max working pressure
Rec. torque (Nm)
19 950 2270 
1/4″ NPT
1/4″ NPT
69.0 MPa
29
19 950 2271 
3/8″ NPT
3/8″ NPT
69.0 MPa
34
19 950 2272 
1/2″ NPT
1/2″ NPT
69.0 MPa
61
19 950 2273
3/4″ NPT
3/4″ NPT
69.0 MPa
102
19 950 2274 
1″ NPT
1″ NPT
69.0 MPa
163
NPT female / male adapters 15K
Part No.
Connection 1
Connection 2
Max working pressure
Rec. torque (Nm)
19 950 2233 
1/4″ NPT
1/4″ NPT
103.0 MPa
29
19 950 2234 
3/8″ NPT
3/8″ NPT
103.0 MPa
34
19 950 2235 
1/2″ NPT
1/2″ NPT
103.0 MPa
61
19 950 2236 
3/4″ NPT
3/4″ NPT
103.0 MPa
102
19 950 2237 
1″ NPT
1″ NPT
103.0 MPa
163