LP Adapters, JIC to HP, Stainless Steel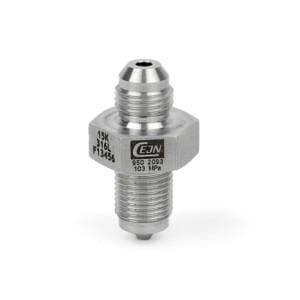 Industry standard tube adapters from JIC to HP. Connect from HP 60° tube to the JIC 37° flared tube fittings (SAE J514 and ISO 8434-2). The small seal area results in a compact, robust design flared tube end to seal and hold fluid under high pressure. The JIC design has low assembly torque relative to the pressure rating.
Applications: Diagnostic pressure readings and system testing in fluid power applications. Power hydraulics for construction.
More tools are featured in tool catalog.
Technical data:
JIC male to HP male
Part No.
Connection 1
Connection 2
Max working pressure
Rec. torque (Nm)
19 950 2090
JIC 4
1/4″ HP
103.0 MPa
conn.1: 18 conn.2: 34
19 950 2091
JIC 4
3/8″ HP
69.0 MPa
conn.1: 18 conn.2: 68
19 950 2092
JIC 4
9/16″ HP
103.0 MPa
conn.1: 18 conn.2: 150
19 950 2093
JIC 6
1/4″ HP
103.0 MPa
conn.1: 30 conn.2: 34
19 950 2094
JIC 6
3/8″ HP
103.0 MPa
conn.1: 30 conn.2: 68
19 950 2095
JIC 6
9/16″ HP
103.0 MPa
conn.1: 30 conn.2: 150
19 950 2096
JIC 8
1/4″ HP
69.0 MPa
conn.1: 64 conn.2: 34