Linear stand with position control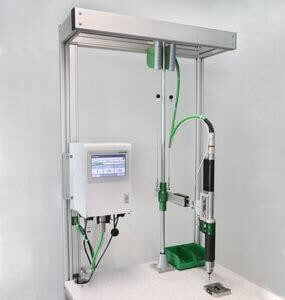 Monitoring of the screw position and screw sequence, freely programmable
Individual screw tightening parameters available for each screw position
Takes the strain off the operator by absorbing the reaction torque
Vertical screwdriver guidance
Optionally with integrated vertical stroke to relieve the operator. The pressure is activated by a cylinder.
Sequential ordering of the connection elements according to position
Functionality the best process reliability can be achieved with the use of a position control stand/position control gantry which coordinates, optimises and controls the complete production process.
The stand/gantry can be operated with screwdrivers of the EC or EC servo series. They enable free programming of the screw tightening – torque, angle, speed, waiting time and rotational direction are individually adapted to the screwdriving task. The integrated torque and angle recording enables the exact control of the screw tightening as well as the documentation of important processing parameters. The position recognition feature increases processing reliability in applications where several screw positions need to be assembled in a certain order on one product. As soon as the position control stand/position control gantry is in the correct position screw tightening will begin. Equipped with guidance hardware and software, the stand/gantry will only allow activation of the correct function once situated in the correct position.
The position control is able to guide inputs and outputs depending on the application. This includes functions such as clamping and locking workpieces, feeding connection elements and activating measurement functions. If there are a large number of screw positions the position control stand /position control gantry can be used to determine and monitor the relevant operating mode required and the order of positions, the screw can only be tightened if the worker has kept the order in the correct sequence.
More tools are featured in tool catalog.
Technical data:
Part no.
Axes
Max. Torque, Nm
Working area, mm
Height, mm
Min
Max
448000A
X, Y
20
320
550
137-1073
448000B
X, Y
50
350
663
170-1190
448000C
X, Y
150
350
663
170-1190
448000D
X, Y, Z
20
320
550
137-1073
448000E
X, Y, Z
50
350
663
170-1190
448000F
X, Y, Z
150
350
663
170-1190