HP Tubing, Stainless Steel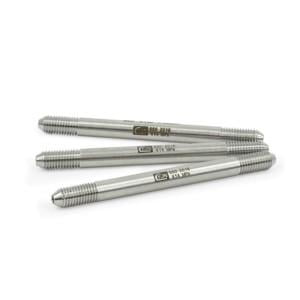 Acid resistant stainless steel 316L / EN1.4404 cold drawn
Industry standard tubing sizes: 1/4″, 3/8″, 9/16″
Over 400MPa working pressure
Tested for cyclic pressure resistance
Full material traceability
Clearly marked individual components
CEJN's standard tubing sizes are available in a range of 3", 4" and 6" straight lengths. Also known as HP-nipples, they are manufactured from high-strength, cold-worked stainless steel grade 316L (EN 1.4404), coned at 59° and threaded (see drawings), ready to use together with CEJN's collar and gland nuts.
Applications: laboratories, high pressure tools, test rigs and equipment, calibration benches.
More tools are featured in tool catalog.
Technical data:
Tubing
Part No.
Tube Length
Tube size
Tube Size (Internal)
Rec. torque (Nm)
19 950 2018
3″ (76.20 mm)
1/4″ (6.35 mm)
2.2 mm
34
19 950 2019
6″ (152.40 mm)
1/4″ (6.35 mm)
2.2 mm
34
19 950 2020
3″ (76.20 mm)
3/8″ (9.52 mm)
3.2 mm
68
19 950 2021
4″ (101.60 mm)
3/8″ (9.52 mm)
3.2 mm
68
19 950 2022
4″ (101.60 mm)
9/16″ (14.40 mm)
4.8 mm
150
19 950 2023
6″ (152.40 mm)
9/16″ (14.40 mm)
4.8 mm
150