DP (2 couplings)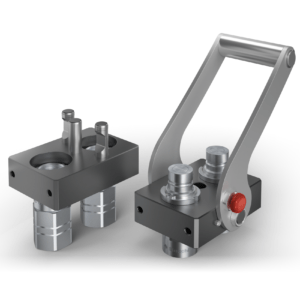 "DP" is the compact manual multicouplings series that offer solutions for applications requiring connection and disconnection of several hydraulic, electrical and pneumatic lines in reduced spaces. Up to four lines size 1/2 can be simultaneously connected and disconnected by a safe, simple and quick movement requiring low effort. The lines can all have the same size or each line can be different from the others according to the application.
BENEFITS
Quick connection and disconnection of up to four hydraulic, electrical and pneumatic lines without any risk to incorrect connection of the lines.
Flat face couplings: Easy to clean avoiding contamination of circuit. No fluid loss to the environment.
Couplings mounted on the plates with threaded sleeves or seeger/snap rings for easy installation or replacement.
Using FAP couplings with triple valve system, it is possible connect and disconnect with high residual pressure in the circuit.
Singles female couplings can be connected manually to the male couplings on the fixed half.
This can be very useful for the connection of auxiliary lines that are not fitted in the mobile half.
Possibility to fit electrical connector for electronic control system on the equipment.
Mechanical connection by internal cams and locking pins eliminates brinelling effect on the couplings.
Compact design.
Easy to install also on pre-existent system. Safe and simple to use.
More tools are featured in tool catalog.
Technical data:
| | | | |
| --- | --- | --- | --- |
| Product code | | Coupling size | Thread size BSP |
| DP2-9ZN 3/8" | Multi coupling | 3/8" | 3/8″ / 1/2″ |
| DP2-9ZN | Mobile | 3/8" | 3/8″ / 1/2″ |
| DP2-9 | Rack | | |
| DP2-13ZN ½" | Multi coupling | 1/2″ | 1/2″ |
| DP2-13ZN ½" | Rack | 1/2″ | 1/2″ |
| DP2-13L | Multi coupling | 1/2″ | 1/2″ |
| DP2-13L | Rack | 1/2″ | 1/2″ |
| DP2-13 | Teline | | |
| DP2-15ZN 3/4″ | Multi coupling | 5/8″ | 3/4″ |
| DP2-15ZN 3/4″ | Rack | 5/8″ | 3/4″ |
| DP2-17ZN 1″ | Multi coupling | 3/4″ | 3/4″ / 1″ |
| DP2-17ZN 1″ | Rack | 3/4″ | 3/4″ / 1″ |