DLC, DN5 Aluminum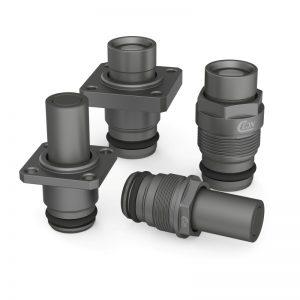 Optimized for extreme spill-free connection/disconnection
Excellent flow capacity
Self-aligning
Panel and thread versions available
Connection under full working pressure
DLC is a blind-mate coupling designed for thermal management applications requiring an auto-coupling with spill-free connection and disconnection. The series has a self-aligning feature to enable blind connection, where a combination of thread and panel versions is possible. The unique design of the series protects the seal from damage during connection/disconnection under pressure, to guarantee a tight joint. The specially developed Nitrile (NBR) sealing withstands working temperatures from -40°C (-40°F) to +80°C (+176°F). DLC in DN5 is made of hard-anodized aluminium alloy for maximum durability and corrosion resistance.
Applications: Thermal control of data centres, power electronics, broadcasting transmitters, medical imaging, hybrid/electric industrial vehicles, renewable energy solutions and all other electronic equipment using DLC technology.
More tools are featured in tool catalog.
Technical data:
Couplings
Part No.
Connection
A
B
D
E
F
G
10 150 1900
M19x1
36.8
20.5
18.0
17.0
–
NBR
10 150 1921
M19x1
36.8
20.5
18.0
17.0
–
EPDM
10 150 1901
For 4x screws (M3)
36.8
37.0
28.0
17.0
–
NBR
10 150 1922
For 4x screws (M3)
36.8
37.0
28.0
17.0
–
EPDM
Nipples
Part No.
Connection
A
B
D
E
F
G
10 150 6900
M16x0,75
37.5
17.5
16.0
20.5
–
NBR
10 150 6921
M16x0,75
37.5
17.5
16.0
20.5
–
EPDM
10 150 6901
For 4x screws (M3)
37.5
29.0
22.3
20.5
–
NBR
10 150 6922
For 4x screws (M3)
37.5
29.0
22.3
20.5
–
EPDM