Compressed Air Reels – Closed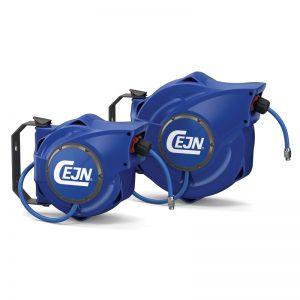 High flow and low pressure drop
Slow, strong retraction
Durable construction
Soft stop-ball prevents tripping
The CEJN Safety Reel is a durable reel that provides excellent performance thanks to its full-flow patented design that, unlike most reels, does not restrict flow. This provides maximum power to the customer's tools, saving them both energy and time. This hose reel is ideal for a safe workplace. The slow retraction function, hose guiding, PUR hose, soft stop-ball to prevent tripping and anti-kink safety features are just a few examples of what makes these safety reels the best on the market. The reel can swivel 180 degrees allowing the operator to move around freely, and the slow retraction makes it safe and easy for anyone to handle. If a hose needs to be changed, this can be done easily thanks to its smart design.
Hose reels for water and cable reels for electrical applications are also available.
CE Marked in compliance with 2006/42/EC
Technical data
Feeder hose length: 1.5 m (4.9 ft)
Hose material: Braided PUR
Connections: Male thread
Temperature range: -20°C — +60°C (-4°F — +140°F)
More tools are featured in tool catalog.
Technical data:
Small reel 

Part No.
ID x OD
Connection
Weight
Max working pressure
10 meters
19 911 2022
8 x 12
R 1/4″
4.9 kg
16 bar (232 PSI) *
19 911 2082
8 x 12
eSafe 320
5 kg
16 bar (232 PSI) *
7 meters
19 911 2020
8 x 12
R 1/4″
4.5 kg
16 bar (232 PSI) *
5 meters
19 911 2040
11 x 16
R 1/2″
4.7 kg
12 bar (174 PSI) *
19 911 2042
11 x 16
eSafe 320
4.8 kg
12 bar (174 PSI) *
Medium reel

Part No.
ID x OD
Connection
Weight
Max working pressure
17 meters
19 911 2120
8 x 12
R 1/4″
6.6 kg
16 bar (232 PSI) *
19 911 2182
8 x 12
eSafe 320
6.7 kg
16 bar (232 PSI) *
14 meters
19 911 2130
9.5 x 13.5
R 3/8″
6.5 kg
16 bar (232 PSI) *
19 911 2162
9.5 x 13.5
eSafe 320
6.6 kg
16 bar (232 PSI) *
10 meters
19 911 2140
11 x 16
R 1/2″
6.7 kg
12 bar (174 PSI) *
19 911 2142
11 x 16
eSafe 320
6.8 kg
12 bar (174 PSI) *
8 meters
19 911 2150
13 x 18
R 1/2″
6.6 kg
10 bar (145 PSI) *
19 911 2152
13 x 18
eSafe 320
6.7 kg
10 bar (145 PSI) *
Medium reel with anti-spark hose

Part No.
ID x OD
Connection
Weight
Max working pressure
14 meters
19 911 2132
9.5 x 13.5
R 3/8″
6.5 kg
12 bar (174 PSI) *
19 911 2172
9.5 x 13.5
eSafe 320
6.6 kg
12 bar (174 PSI) *