B-RAD SELECT BL
The new B-RAD Select BL brushless battery torque wrenches come with two simple buttons to increase or decrease the value by 10 Nm. At the four-digit display the set torque value is displayed. The B-RAD Select BL remembers the last set torque value even after the battery has been removed.
The B-RAD is especially suitable for jobs where electricity or compressed air are not available.
The number of cycles per battery is depending on stud length, lubrication, temperature and torque setting. All new RAD tools now come with a QR-code sticker that you can scan with your phone and which will link you directly to the calibration certificate and user manual.
Brushless motor
Available in single and automatic 2-speed gearbox
Low battery warning to prevent torque output reduction
Extremely low noise level – only 65 dB
Automatic reaction arm release
Possibility to set torque in 1-50 levels instead of torque settings
Lithium-ion 18V / 5.2 Ah battery technology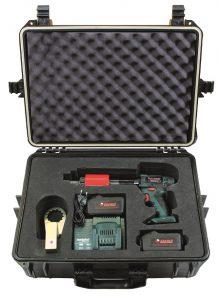 B-RAD SELECT tools include:
Reaction arm and retaining ring
2 Lithium-ion 18V/5.2Amp batteries
Weatherproof storage case
User manual
Calibration certificate
More tools are featured in tool catalog.
Technical data:
*10.9 bolts
| Model | Weight | Dim. A | Dim. B | Dim. C | Dim. D |
| --- | --- | --- | --- | --- | --- |
| B-RAD SELECT 275 | 3,2 Kg | 238 mm | 63 mm | 68 mm | 262 mm |
| B-RAD SELECT BL 700 | 3,5 Kg | 231 mm | 63 mm | 67 mm | 262 mm |
| B-RAD SELECT BL 1400 | 3,5 Kg | 231 mm | 63 mm | 67 mm | 262 mm |
| B-RAD SELECT BL 1400-2 | 4,3 Kg | 279 mm | 63 mm | 67 mm | 262 mm |
| B-RAD SELECT BL 2000 | 4,0 Kg | 244 mm | 69 mm | 69 mm | 262 mm |
| B-RAD SELECT BL 2000-2 | 4,9 Kg | 298 mm | 69 mm | 69 mm | 262 mm |
| B-RAD SELECT BL 4000 | 6,0 Kg | 285 mm | 81 mm | 81 mm | 266 mm |
| B-RAD SELECT BL 4000-2 | 6,7 Kg | 337 mm | 81 mm | 81 mm | 266 mm |
| B-RAD SELECT BL 7000 | 8,8 Kg | 295 mm | 95 mm | 95 mm | 272 mm |