A/C Electric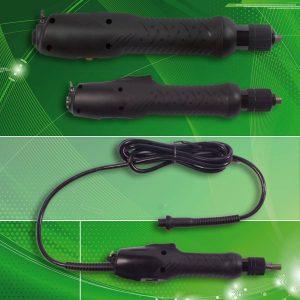 with mechanical shut-off clutch
economical
air independent
The cost-effective electric screwdriver with mechanical shut-off clutch is a good alternative if no pneumatic connection is available.
Our range of handheld electric screwdrivers provides the customer with the familiar quality features of DEPRAG screwdriving systems.
This ergonomic screwdriver is available with varying functions such as e.g. push-to-start or lever start. For some screwdriver types speed regulation is possibe.
Seven performance classes cover the application areas for precision engineering screw assemblies up to M6 or 12 Nm. The torque set on the mechanical shut-off clutch has an accuracy of ±3% standard deviation. The separate electricity supply of 32 V and 40 V extra-low voltage ensures safe usage.
Our standard program for inserting tools is applicable.
A/C Electric Screwdriver
Design execution: Straight
Torque range: 0.04 – 12 Nm
More tools are featured in tool catalog.