Even though the pneumatic coupling is only a small fragment of the entire compressed air system, it plays a crucial role in terms of overall performance. CEJN eSafe is a pneumatic quick coupling whose cutting-edge properties were designed to increase the efficiency and safety of pressurised air operations.
CEJN eSafe Pneumatic Coupling Solves Several Challenges in One Go
Pneumatic coupling is the most often handled component of the compressed air system. If there is one spot in the system that leaks, it is most often the pneumatic coupling. Connecting and disconnecting the pneumatic coupling are also typically involved in compressed air-related accidents. That is already a few good reasons for you to pay particular attention when selecting a pneumatic coupling.
CEJN is a pioneering pneumatic coupling manufacturer, and the new generation coupling eSafe is an excellent example of CEJN's trailblazing work. In addition to all the advantages of CEJN's standard couplings, eSafe's unique patented design delivers improved safety and top-notch performance.
Improved System Operation with a Leak-proof Pneumatic Coupling
Pneumatic couplings directly affect the performance of compressed air-operated equipment. Pressure drop and constant leaks cause considerable costs, but they can be prevented with high-quality pneumatic couplings. This is where eSafe is the best in business.
The design of eSafe quick couplings maximise flow capacity and minimise pressure drop. This ensures that pneumatic tools are operated with maximum air pressure capacity, enabling use at full power and thus, faster work performance.
Safety Is a Key Property of Pneumatic Couplings
As the name suggests, the design of eSafe quick coupling prioritises safety. It is easy to connect and disconnect, ergonomic to handle and to crown it all, it enables single-handed use.
eSafe quick couplings increase the safety of the working environment as they do not cause any recoil or loud noises. The internal structure of eSafe couplings has been designed to prevent the pneumatic valve from opening before the nipple is inserted sufficiently deep into the coupling frame.
When disconnecting, the nipple cannot be pulled out of the frame until the hose is completely empty. Air vents out of the coupling in a controlled manner, eliminating the risk of hose whip. As a result, the risk of accidents decreases significantly. In addition, the noise level is retained within safe limits which increases work comfort.
The below link opens a video that introduces the structure of eSafe coupling and compares its recoilless operation to a standard coupling.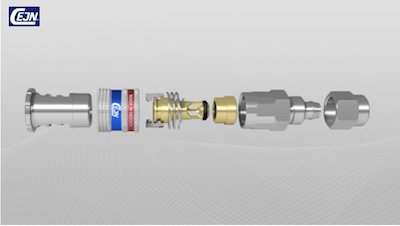 » View the video about the properties of eSafe quick coupling
Contact Us for More Information!
We will be glad to help you with selecting the right compressed air couplings and other pneumatic products. Contact us by phone at +358 10 778 1400 or by email at info@pneumacon.fi.